Vegas Odds on Presidential Election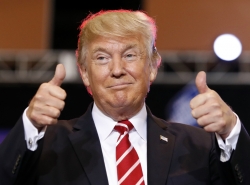 Record Amounts Bet On Politics
Online gaming sites saw record betting on the 2016 U.S. presidential election. It fact, it was the most-wagered upon political event ever.
A female client lost more than $650,000 on a single bet on Democrat nominee Hillary Clinton to win the election, a U.K. bookmaker said. Another venue reported of a London bettor wagering $265,000 on Republican hopeful Donald Trump. The winning ticket returned almost $1 million after the surprising result of Trump's victory.
The 45th U.S. President is also the current favorite (+140) to win his second and final four-year term in the White House when voters return to the polls on Nov. 3, 2020 (odds provided by Betonline).
There have been 19 Republican presidents since Abraham Lincoln first ran as a Republican to win the presidency in 1861.
Even though the Democratic party has been around longer than the Republican party, there have only been 13 Democrat presidents.
US Politics – Odds To Win The 2020 Presidential Election
Donald Trump
+140
Bernie Sanders
+1200
Kamala Harris
+1400
Joe Bidden
+1400
Mike Pence
+1400
Elizabeth Warren
+2000
Cory Booker
+2000
Kirsten Gillibrand
+2500
Michael Bloomberg
+4000
Oprah Winfrey
+3300
Nikki Haley
+4000
Michelle Obama
+4000
Andrew Cuomo
+4000
Dwayne The Rock Johnson
+4000
Election Betting Lines
There are 46 potential candidates in Betonline's list for U.S. President in 2020. The odds range from +140 on Donald Trump to +25000 on actor Will Smith.
A $100 money line bet on Trump to remain in the Oval Office would return $240 ($100 bet + $140 profit = $240 total return). The same amount wagered on the Men in Black star would return $25,100 ($100 bet + $25,000 profit = $25,100 total return).
Some other notable names in the mix include: Senator Bernie Sanders (+1200), Senator Kamala Harris (+1400), Vice-President Mike Pence (+1400), talk-show host Oprah Winfrey (+3300), Michelle Obama (+4000), actor Dwayne "The Rock" Johnson (+4000), Facebook CEO Mark Zuckerberg (+6600) and businessman Mark Cuban (+8000).
If you can't find a favorite among those names, there's a much smaller list with less reward as well. While Trump is the favorite among the big names, Democrats are favored overall to regain the White House in 2020. The Democrats are -130, while the Grand Old Party is +110.
A $130 bet on the Democrats would earn a return of $230 ($130 bet + $100 profit = $230 total return), while a $100 bet on the Republicans would earn a $210 return ($100 bet + $110 profit = $210 total return).
These betting odds will change as the November 2020 election draws closer. Some people will drop out of the race, others will find themselves on the outside looking in. Just remember, when you make your bet, your odds are fixed at that point in time.
US Politics – Party To Win The 2020 Presidential Election
Republican Party
+110
Democratic Party
-130
Voting For The President
The 2020 election will be the 59th quadrennial U.S. presidential election. Voters will select presidential electors who in turn will either elect a new president and vice-president through the electoral college or re-elect the incumbents.
President Trump is eligible to run for re-election and intends to do so. His re-election campaign has been ongoing since his victory in 2016, leading pundits to describe his tactic of holding rallies continuously throughout his presidency as a "never-ending campaign."
The last three presidents were all voted into a second term in office — Bill Clinton (1992-2000), George W. Bush (2000-2008) and Barack Obama (2008-2016).
However, contrary to a widely held popular belief, political history doesn't anoint incumbent presidents as automatic winners or even presumptive favorites. The numbers show that most presidents fail in their efforts to maintain a long-term hold on the affections of a fickle public.
Of the 43 men who served as president before the current leader, only 16 won two consecutive elections (37.2%). Trump's odds aren't looking so good anymore, are they?
Betting on the person to lead the nation for the next four years is just one of the many bets offered on online sites. This is the Super Bowl of politics. And, more than ever, voters want to throw some money behind their vote.
Some of the categories you will find in presidential election betting lines include placing bets on the outcome or the primaries, the presidency, the popular vote, and even some prop topics such as gender. Among these betting lines, there are also varying betting categories
---
Handicapped electoral vote count: This bet will involve beating a spread relating to the number of electoral votes, which is based on the Electoral College structure within the election process. To become president, a candidate must receive a majority of the electoral votes (since 1964, 270 of the 538 electoral votes).
---
Over/under electoral vote count: In this type of bet, you are trying to determine if a candidate will come in over or under a specific number of predicted votes. The odds and amount of votes will vary from candidate to candidate and are based on that individual's standing within the election.
---
Presidential primary: Money line odds covering the primaries will be offered for each party represented in the election. You are betting on who will win the nomination from each political party. It is not uncommon to see the handicapped and over/under options available for presidential party primary betting lines leading up to Election Day.
---
Winning a specific state: An election is won state by state. Here, odds are offered for a particular candidate to win a specific state from New York to California and Alaska to Florida. As the election progresses, the number of betting lines and odds covering specific state results increases to include smaller states.
---
Winning the popular vote: A candidate can win the popular vote and still lose the election. We saw this when Hillary Clinton beat Barack Obama in the primary for the popular vote, but lost to him when it came down to the Electoral College count. When you're betting on the popular vote, you need to figure out who is most favored by the voters rather than who is going to earn the highest Electoral College count.
Presidential Facts And Figures
In order to be elected president, the candidate must fulfil three basic criteria — be at least 35 years of age, be a permanent U.S. resident for at least 14 years and be considered a natural U.S.-born citizen.
John Kennedy was the youngest elected U.S. president at 43. Ronald Reagan (second term) was the oldest elected U.S. president at 73.
There have been more than 200 women who have run for the position of president, according to PBS. These are mostly nominees of minor parties and candidates who ran for president before women achieved suffrage.
Hillary Clinton formally became the first woman to receive a major party nomination after the Democrats named her as their candidate for the 2016 presidential election.
In 2000, Al Gore won the popular vote but lost the election to George Bush. In the most highly contested election in modern history, the U.S. Supreme Court stopped the Florida recount of ballots, giving Bush the state's 25 electoral votes for a total of 271 to Gore's 255.
Voting For The Democrats
Betting on who will win the Democrat nomination is as old as the election itself. With today's statistical tools, scientific polls and social media, it should be easier than ever to make an accurate prediction of who will come out on top in the Democratic primary.
Top online gaming sites — like Bovada, TopBet and Betonline — offer a list of prop bets on the primary.
Some of those money line wagers include:
The Democratic nominee will be of which gender?
Who will be the pick for Democratic vice-president?
Which Democratic candidate will win at the various state caucuses?
What will the gender balance be on the Democratic presidential ticket?
In addition to these various betting lines, you will also find additional bet variations online, such as handicapping and over/under bets.
No federal gambling laws prohibit U.S. residents who are 21 years old or older from participating in legally licensed and regulated online betting that is offered by online sportsbooks that are located outside of the United States.
Unless you live in the state of Washington, there are no state laws to stop you from betting on who will win the Democrat nomination or any other part of the U.S. election at legal offshore sportsbooks.
Voting For The Republicans
Licensed offshore betting sites are embracing the popularity of political platforms, polling and predictions.
They offer the biggest variety of wagering options ever and gamblers are jumping on the bandwagon, whether it's involving the Democrats or Republicans.
Donald Trump certainly didn't start out as the frontrunner in the 2016 Republican primary. The favorites included Chris Christie, Jeb Bush and Scott Walker. Trump eventually worked his way to the top in what was just the beginning of his many surprises on the way to the White House.
Betting on the primary is just one of the betting options for a Republican candidate. Here is a list of some of the others:
The Republican nominee will be of which gender?
Who will be the pick for Republican vice-president?
Which Republican candidate will win at the various state caucuses?
In addition to these various betting lines, you will also find additional bet variations online, such as handicapping and over/under bets.
Like the Kentucky Derby, there will be a lot of horses in all of these races. The billionaire businessman from New York proved in 2016 that you don't have to be the favorite to reach the winner's circle.