Who Will Win The NBA Championship
Sat 15/04/2017 - 02:17 EDT
Who Will Win The NBA Championship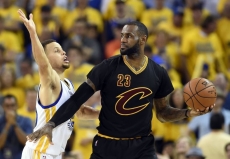 By Dan Favale
Sixteen teams make it to the NBA playoffs, but that doesn't mean all of them are equally likely to win the championship. To the contrary, only a select few are legitimate title threats.
Using TopBet's championship odds ahead of the first-round action, we take you through the five best options, from worst to first.
5. Boston Celtics (+2,000)
Tons of people will be underestimating the Boston Celtics, using some of their lackluster performances against the Cleveland Cavaliers as the impetus. Do not be one of those detractors.
Should the Celtics be favored in a seven-game series with the Cavaliers? Of course not. They have the No. 1 seed in the Eastern Conference, but they are decidedly inferior, if only because Cleveland has LeBron James and they don't.
That being said, the Celtics, when at full strength, are deep. And they have a ton of defensive looks they can throw at you. Jae Crowder and Avery Bradley are scrappy perimeter defenders, Marcus Smart, a point guard, can defend some small forwards, Jaylen Brown, though a rookie, can already hang with some of the NBA's elite scorers, and Al Horford is forever underrated on both ends of the hardwood.
The key for the Celtics will be generating enough offense with Isaiah Thomas on the bench or propping up a good enough defense with him on the floor. He is their best player and, make no mistake, tries on D, but at 5'9″, he's a liability by default.
All those things in mind, there's a chance that with the Celtics' depth and defensive versatility, they could be a bigger threat to the Western Conference juggernauts than the Cavaliers. Problem is, they have to get through the Cavaliers first.
4. San Antonio Spurs (+900)
Confused? Angry? Just plain shocked? That's okay. We get it. The San Antonio Spurs would be second or third for most people. And, you know what, they just might be.
But we cannot ignore that they aren't built to contend with more athletic and explosive teams. We have seen them struggle against those types of squads in the past. Just look to their second-round series with the Oklahoma City Thunder last year.
Having Dewayne Dedmon in the middle helps clear some of those issues up. He's more springy and can switch onto smaller players better than any Spurs big in recent memory. But San Antonio still plays a more traditional style that isn't conducive to fending off teams who get hot from deep.
Most of the time, this doesn't matter, because they simply stop teams from making threes. But squads like the Houston Rockets, Golden State Warriors and even Cavaliers are going to get hot at some point. It's then the Spurs will struggle to keep up.
3. Houston Rockets (+3,000)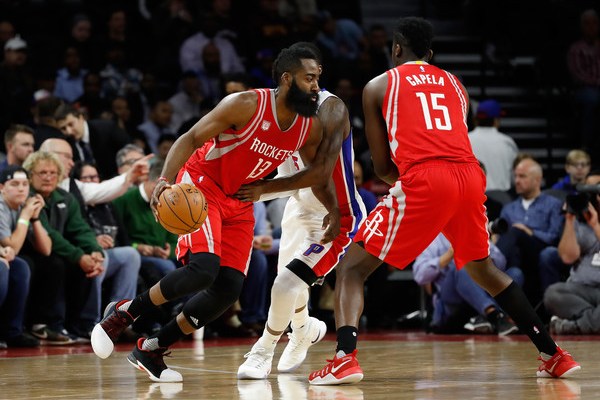 The Rockets received serious consideration for a top-two spot. Ultimately, they can't be second. They have to go through the Warriors to even reach the NBA Finals. That figures to be an impossible feat for anyone.
What the Rockets are doing is admittedly interesting. They have elected to fight fire with fire, combating the Warriors' frenetic three-point-happy play style with an even more frenetic three-point-drunk approach.
Thing is, this will only work if the Rockets can outshoot the Warriors four times in seven tries. And while they average a little more than two three-point makes more than the Dubs per game, their efficiency is noticeably inferior. That is going to catch up with them over the course of a seven-game series.
2. Cleveland Cavaliers (+400)
In so many ways, the Cavaliers have failed to earn the benefit of the doubt. Sure, they have LeBron James and are working off two consecutive NBA Finals appearances, including one championship. But their defense has been bad.
Since the All-Star break, the Cavaliers are second to last in points allowed per 100 possessions. They also own the league's worst transition defense overall. People talk about them flipping a switch, and they might. We know LeBron will anyway.
But in each of the last two seasons, the Cavaliers showed well before the playoffs that they could be a defensive squad worth taking seriously. They haven't shown that this year. And although that shouldn't keep them from winning the Eastern Conference, it figures to be a huge problem in the NBA Finals.
1. Golden State Warriors (-220)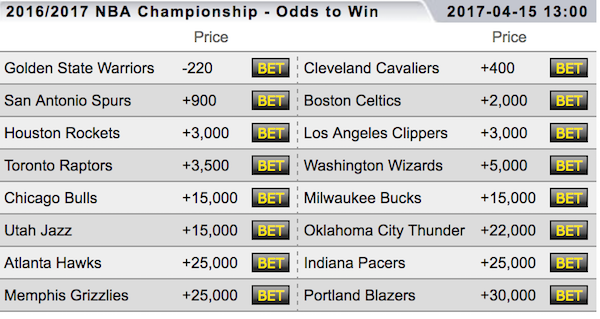 To even entertain the Warriors missing out on the 2017 NBA title, you must ask one question: Which team is going to beat them four times in seven tries?
Go ahead. Think of one. I'll wait.
Still waiting.
Waiting still.
See? You can't do it. The Warriors took a 72-win team and added Kevin Durant, a top-five player, to its core. There's a chance they roll to a championship without ever experiencing a true test.