Fri 13/10/2017 - 08:30 EDT
Vegas NFL Odds Week 6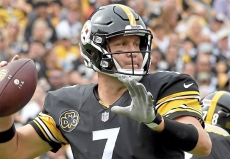 Welcome to the NFL where inconsistency reigns. A team can look like world champions one week only to lose to a struggling team the next.
The Pittsburgh Steelers (3-2) have been fooling their fans all year. They're not that good. The AFC North leaders, favoured by more than a touchdown at home, failed to find the end zone against a team that lost to the Jets the week before. Ben Roethlisberger? Five interceptions?
The Steelers are still among the top six teams favored to win the Super Bowl at 12-1? That's not even funny. This being the NFL, they will probably stun the 5-0 Chiefs in Kansas City this week. That AFC matchup is one of 14 games in Week 6. Let's try and pick some winners against the spread (odds provided by bovada.lv).
Teams with byes this week — Buffalo, Cincinnati, Dallas and Seattle.
---
Two Top NFC Teams Meet In Charlotte

Philadelphia at Carolina — Two of the best teams in the NFC, both 4-1, battle it out in Charlotte on Thursday night. The Panthers won their last two games on the road where they weren't favored in either game. The Eagles have won three straight. Cam Newton and Carson Wentz rank eighth and ninth in QB ratings this year. The Carolina QB is 20 points higher than he was last season. He's the biggest reason the Panthers are not headed for another 6-10 season.
VGB's pick — Philadelphia (+3), Over (46.5)
---
Rodgers Has Packers On Top Of Division

Green Bay at Minnesota — This game comes down to Aaron Rodgers against the Minnesota defense. No. 12 rules right now. Even though he has been sacked as many times as Carson Palmer, Rodgers is among the league leaders in passing yards, passing percentage and touchdown passes. This is the second straight road game for the Packers (4-1), who lead the NFC North. The Vikings (3-2) are 2-3 against the spread (ATS) and 2-1 at home this season.
VGB's pick — Green Bay (-3), Over (46.5)
---
AFC East Rivals Battle For Division Lead

New England at New York Jets — It's interesting that, before the season began, some were debating whether the Patriots could finish the season without losing a game and some were wondering if the Jets would ever win a game. What a difference five weeks makes. These two AFC East rivals, both tied at 3-2, square off at the Meadowlands with the division lead on the line. The Patriots are 2-0 ATS away from Foxborough, but that's a lot of points to give on the road.
VGB's pick — New York Jets (+10), Under (47.5)
---
Redskins Favored For First Time This Year

San Francisco at Washington — The winless 49ers (0-5) play their third straight road game, losing the first two in overtime. This is the first time this season the Redskins (2-2) have been favored. They come into this game well-rested and healthy after a bye week. Kirk Cousins is having a big year for Washington. He's thrown for seven TDs against one interception and he's one of seven starting QBs with a rating over 100.
VGB's pick — Washington (-10), Over (46.5)
---
Ravens Force A Lot Of Turnovers

Chicago at Baltimore — Mitchell Trubisky didn't have the greatest debut of his career last weekend. He was 12-for-25 for 128 yards. The heat gets turned up a bit more in this game as the Bears (1-4) travel to Baltimore to face an opportunistic defense. The Ravens (3-2) have forced 12 turnovers this season. Baltimore needs to beat teams with losing records to remain in the hunt in the AFC North. Both teams are 3-2 ATS this year.
VGB's pick — Baltimore (-6.5), Over (39.5)
---
Lions Have Won Three Straight Over Saints

Detroit at New Orleans — This game could be a track meet. We have two gunslingers in Drew Brees and Matthew Stafford and these aren't top 10 defenses. The Saints (2-2), winners of two straight, have enjoyed a break with the bye week. This is only their second home game of the season. The Lions (3-2), who have been favored only once this year, are 2-0 on the road and 3-2 ATS. They've won the last three meetings with the Saints.
VGB's pick — Detroit (No line)
---
Dolphins Average Just 10 Points A Game

Miami at Atlanta — In four games, the Dolphins (2-2) have scored just 41 points. The Falcons (3-1) could score that in this game. Thankfully for the Dolphins, their defense has only allowed 67 points. But this is their biggest test of the year so far. Jay Cutler averaged only 3.5 yards per passing attempt last weekend, the fewest by a winning quarterback since Week 11 of the 2013 season. The Falcons, who have had two weeks off, are 2-2 ATS.
VGB's pick — Atlanta (-12), Under (46.5)
---
Kizer Loses Starting QB Job With Browns

Cleveland at Houston — Deshaun Watson has played well for the Texans (2-3). DeShone Kizer has struggled with the Browns (0-5). He leads the league with nine interceptions. And now Kizer has lost his job to Kevin Hogan, who will make his first NFL start. J.J. Watt is out for the season with a knee injury, but Houston still has a lot of talent to dominate in their third straight home game. The Texans are 3-2 ATS, the Browns are 1-4.
VGB's pick — Houston (-10), Over (47)
---
Arizona Deals For Adrian Peterson

Tampa Bay at Arizona — Will the addition of Adrian Peterson be enough to lift the Cardinals back to the .500 mark? Arizona (2-3) needs a running game with the loss of David Johnson. Carson Palmer needs a running game to take some of the pressure off the Arizona passing game. Tampa Bay (2-2) has a decent ground attack, but that hasn't helped Jameis Winston as the Bucs' QB continues to miss open receivers downfield.
VGB's pick — Tampa Bay (-2), Over (45)
---
Follow The Trend And Take The Rams

Los Angeles Rams at Jacksonville — Going by the trend, the Jaguars (3-2) are supposed to lose this week. They win on the odd-numbered weeks and lose on the even-numbered weeks … at least they have through five weeks of the season. The Rams (3-2) are coming off a tight loss at home with the NFC West lead on the line. It's interesting that the Rams are 1-2 at home, but 2-0 on the road. Who do you trust more — Jared Goff or Blake Bortles?
VGB's pick — Los Angeles Rams (+2.5), Over (42.5)
---
Raiders Not The Same Without Carr

Los Angeles Chargers at Oakland — The Raiders (2-3) need a healthy Derek Carr. Every team in the NFL has a difficult time winning even one game with their backup. The Raiders are no different. Oakland was among the preseason Super Bowl favorites. Winning at home against a division rival is a must. The Chargers (1-4) only seem to play in close games. Three of their losses have been decided by three points or less.
VGB's pick — Los Angeles Chargers (No line)
---
Smith Putting Up MVP Numbers For Chiefs

Pittsburgh at Kansas City — There's three winless teams in the NFL but just one that's undefeated. Meet the best team in the NFL — the Chiefs (5-0). Kansas City is also 5-0 ATS. The Chiefs, led by MVP candidate Alex Smith, score almost 33 points a game — the best in the league. Smith has completed almost 77 per cent of his passes with 11 TDs and no interceptions. Ben Roethlisberger is having one of the worst seasons of his 14-year career with the Steelers.
VGB's pick — Kansas City (-5), Over (46)
---
This Is A Season To Forget For Giants

New York Giants at Denver — Not much more can go wrong for the Giants (0-5). The offensive line has struggled all year. They don't have much of a running game. Odell Beckham is done for the season with a broken ankle. Same for Brandon Marshall. And now they meet a team in prime time that's had two weeks off in the Broncos (3-1). This is Denver's fourth home game in five starts this season. The Broncos are 2-1-1 ATS, the Giants 2-3.
VGB's pick — Denver (-12), Under (39)
---
Division Rivals Both Have Losing Records

Indianapolis at Tennessee — Here's another stinker for Monday Night Football as both teams battle injuries. The Colts (2-3) have been unable to win on the road this season in two tries. The Titans (2-3), playing against their AFC South rivals, have lost 11 straight games to the Colts. But no team in the NFL gives up points like Indianapolis — 159 in five games. They now have the worst defense in the league.
VGB's pick — Tennessee (No line)
---
VGB's Top 10 NFL Teams
(Current odds to win Super Bowl LII listed after team record. Odds provided by bovada.lv)
| | | | |
| --- | --- | --- | --- |
| Rank | Team/record | Odds | Particularity |
| #1 | Kansas City Chiefs (5-0) | +650 | Playing well on both sides of the ball. |
| #2 | Green Bay Packers (4-1) | +500 | Aaron Rodgers, Aaron Rodgers, Aaron Rodgers. |
| #3 | Philadelphia Eagles (4-1) | +1000 | Carson Wentz is surrounded with talent. |
| #4 | Carolina Panthers (4-1) | +2200 | So far, the turnaround story of 2017. |
| #5 | Denver Broncos (3-1) | +2000 | No team wants to travel to Denver. |
| #6 | Seattle Seahawks (3-2) | +1000 | Playing better after a slow start to season. |
| #7 | Buffalo Bills (3-2) | +6600 | They have to beat teams with losing records. |
| #8 | Atlanta Falcons (3-1) | +1200 | Great offense, question marks remain on defense. |
| #9 | Detroit Lions (3-2) | +3300 | Top test in Green Bay in three weeks. |
| #10 | New England Patriots (3-2) | +450 | Don't rule them out, it's still early. |