Tuesday NHL Betting Odds: Anaheim Ducks vs Dallas Stars
Tue 26/11/2013 - 19:23 EST
Tuesday NHL Betting Odds: Anaheim Ducks vs Dallas Stars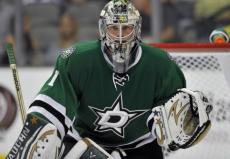 Fans of the National Hockey League have just one game to watch on Tuesday, November 26, 2013 at 8:00 PM ET when the Dallas Stars host the Anaheim Ducks at the American Airlines Center in Dallas, Texas. Both of these teams are having excellent seasons so far, but the Ducks are one of the best teams in the league with 37 points. Despite this, we will back the host Stars to to grab the upset win tonight at home.
Dallas Stars: Sitting in last place
Despite holding 24 points through 22 games played, the Stars are in last place in the Central Division of the Western Conference. The Central could possibly be one of the toughest divisions in all of hockey this season as the top two teams have 38 and 37 points in Chicago and St. Louis. The Stars have played well this year, grabbing 11 wins against nine losses, but have lost two straight games. Dallas has lost four of the last five games played against the Ducks. Dallas has scored only five goals in their last three games.
Anaheim Ducks: One of the league's top teams
Anaheim holds 37 points on the season, which is tied for second-best in the NHL this year. They have rebounded nicely from an 0-3-2 stretch that followed an incredible slate of games that put them on an 8-0-1 clip. Anaheim leads the Pacific Division in the Western Conference by two points and they own a +15 goal differential heading into tonight's contest with the Stars. Despite holding a 17-6-3 record through 26 games, the Ducks are the underdogs on the road tonight.
We head over to the sportsbook found at Bodog.ca to find the betting odds for tonight's NHL contest between the Dallas Stars and the Anaheim Ducks. We will bet 10 percent of our bankroll on the Dallas Stars with the -1.5 (+255) line on Tuesday night to knock off the visiting Ducks.