Top Two Scoring Teams in NFL Meet When Packers Host Patriots Today
Sun 30/11/2014 - 21:11 EST
Top Two Scoring Teams in NFL Meet When Packers Host Patriots Today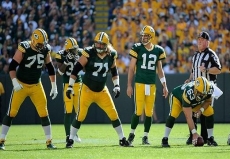 The league's top scoring offenses will collide on Sunday afternoon at the frozen tundra of Lambeau Field when the Packers host the Patriots for what could be the best game of the NFL regular-season to date. New England has not lost since week four to the Kansas City Chiefs, while Green Bay has not lost since week eight to New Orleans. The Packers lead the NFC North by percentage points over the Detroit Lions, while the Patriots hold a three-game lead over the Miami Dolphins. We are going to back the host Packers in this contest.
Green Bay looks to remain unbeaten at home this year
With a 5-0 mark at Lambeau Field, the Packers can stay unbeaten with a win over the Patriots on Sunday. It will not be an easy game since New England's defense barely allows an average of 20 points per game. The Packers offense is the best in the NFC, averaging 32.2 points per game after blowouts of the Bears and Eagles at home. Green Bay's defense will be put to the ultimate test today.
New England aiming for eight consecutive wins this afternoon
An eight straight win for the Patriots would all but wrap up the AFC East, but it will not come easy. This is the most difficult stretch of the schedule for the Patriots, who have beaten three straight division leaders and will look to make it four in a row. They have knocked off Denver, Indianapolis and Detroit by an average of 23 points. During their seven-game winning streak, the Patriots are averaging 39.5 points scored per game, which is better than their league-best mark of 32.5 points per game.
When the Packers host the Patriots on Sunday, we will visit Sportsbook.ag to find the odds. We are going to drop 15 percent of our bankroll on the Packers and the -130 money line as they remain unbeaten at home this season and move closer to the top of the NFC standings.