Thursday NHL Betting Advice: Minnesota Wild vs San Jose Sharks
Mon 16/12/2013 - 15:27 EST
Thursday NHL Betting Advice: Minnesota Wild vs San Jose Sharks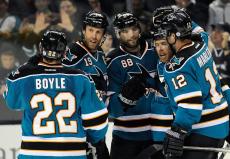 NHL action on Thursday, December 12, 2013 features the San Jose Sharks and the Minnesota Wild at 10:30 PM ET, the final game of the night. The game is being played at the SAP Center in San Jose, California. There are so many factors that will play into this game, including the Sharks being mired in a four-game slump. We are going to back the Sharks at home as they snap their skid.
San Jose Sharks: Out to snap their skid
Should San Jose lose at home tonight to the Wild, they would match their season-long losing streak of five games. During their four-game slide, the Sharks have been outscored by a total of 16-7. One of their losses came at the hands of the Minnesota Wild too. At home, the Sharks are 11-1-1 in their past 13 home games against the Wild, so this game should help the Sharks break out of their losing streak.
Minnesota Wild: Looking to extend San Jose's streak
Minnesota has already beaten San Jose once during the Sharks' losing streak and now the Wild will attempt to send them to another loss. This game will be a little more difficult since it is on the road for Minnesota, who have struggled incredibly in San Jose. On the road, the Wild have lost four straight games, including a 2-1 loss to Anaheim on Wednesday night. They are in the middle of seven games on the road in eight overall. 
We visit the online sportsbook found at BetOnline.ag for the odds between the San Jose Sharks and the Minnesota Wild tonight in California. We are going to split our bet tonight when we use five percent of our bankroll on the Sharks at -1.5 (+155) to win and 5 percent on the Sharks with the UNDER five total goals scored at +110 when the Wild come to town.