Texans Host Bills in Battle of 2-1 Clubs Looking to Make a Move on Sunday
Sat 27/09/2014 - 17:11 EDT
Texans Host Bills in Battle of 2-1 Clubs Looking to Make a Move on Sunday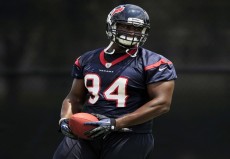 Houston and Buffalo are both 2-1 to begin the 2014 NFL season, playing some very impressive games while also struggling in their lone loss on the year. Ryan Fitzpatrick will face his former team when he suits up for Houston on Sunday. He lost his job in Buffalo due to the high number of turnovers, which cost his team a 3-0 start this year. Arian Foster is still questionable for Sunday, which is why Buffalo has a strong chance at winning this game. We will back Houston at home to win the game.
Texans need Fitzpatrick to limit mistakes
If Houston wants to compete again in the AFC South it will need its new quarterback to limit the mistakes made under center. Fitzpatrick threw three interceptions in last week's 30-17 loss to the New York Giants. The demons from 2013 resurfaced for Houston, which lost 14 in a row after starting the year 2-0. A win on Sunday will help get rid of those demons following the loss to New York.
Bills cannot get themselves into an early hole
Buffalo is 0-10 since the beginning of last season when falling behind by 10 or more points in a game. Head coach Doug Marrone knows that his team cannot continue to play from behind because they have not been able to overcome such a deficit. Buffalo will look to take down its former quarterback in the first meeting with him and it has a strong chance to win this game if Arian Foster does not suit up for Houston.
On Sunday afternoon we will place our NFL week four wager at BetOnline.ag, where the host Texans are favorites. We are going to lay the line of -3 (-105) with 15 percent of our bankroll as Houston moves its record to 3-1 on the season and drops Buffalo to 2-2. This will only happen if Fitzpatrick can prevent committing turnovers.