Spurs Host Heat in Game One of NBA Finals Rematch of Last Season
Thu 05/06/2014 - 20:52 EDT
Spurs Host Heat in Game One of NBA Finals Rematch of Last Season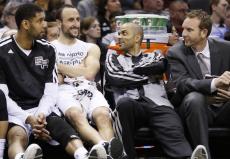 With the NBA Finals upon us, fans are preparing for a series that should go the distance and provide the league with unprecedented levels of excitement. Not many people like to see the same two teams in the Finals two straight years, but this is different. Many want to know if this group of Spurs has what it takes to drop the Heat while others want to see if the Heat can win three straight league crowns. We like the Spurs in the opener.
Spurs happy to open series at home tonight
San Antonio loves playing at home, winning 32 games against 9 losses this season. They will rely on their fans to provide them with plenty of support against the Heat as the series begins on Thursday. They lost just one playoff game at the AT&T Center during their current post-season run. Teams find it hard enough to visit San Antonio and win in the regular-season, now add in the pressure of the playoffs and it could be downright impossible.
Heat have to win on the road to compete in series
Miami will absolutely need to win on the road in this series if they want to secure their third straight league title and second in a row against the Spurs. With Miami the underdog in this series, despite their recent success in the league, winning on the road will play a major factor into their chances of raising another trophy. The Heat have what it takes, but can they stop the Spurs two straight years? We will get some answers tonight.
Sports bettors rejoice; the NBA Finals begin tonight in San Antonio. The Spurs are home chalk at -5 (-110) against the Heat at Sportsbook.ag. We will drop 10 percent of our bankroll on San Antonio as they grab the 1-0 lead in the series and retain home-court advantage. Our bet will be placed on the -200 money line.