San Jose Sharks And Columbus Blue Jackets Meet For NHL Action Thursday Night
Thu 23/10/2014 - 23:11 EDT
San Jose Sharks And Columbus Blue Jackets Meet For NHL Action Thursday Night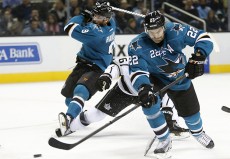 The start of the 2014-2015 NHL season has had plenty of upsets, come-from-behind wins, interesting story lines and plenty of excitement. We are prepared for another thrilling game on Thursday night when the Sharks host the Blue Jackets at the SAP Center in San Jose. This is only the second home game of the season for the Sharks, who we like to win this game as they hand Columbus its third loss.
Sharks have ugly schedule to open the season
Even with nine points to begin the year, the Sharks have had an ugly schedule to play so far. Tonight will be just their second home game since the regular-season began and it will remain a tough road slate until the middle of November. To begin the season, San Jose will play 16 of its first 21 games on the road. The Sharks lost their last two games of their previous road trip by scores of 4-0 and 5-3 to the Rangers and Bruins.
Blue Jackets struggle mightily when playing in San Jose
Columbus has not had much success when playing in San Jose, posting a record of 4-18-2 in the California city. Columbus lost both meetings last season, including a 3-2 defeat in San Jose. Columbus began its recent road trip in Ottawa on Saturday, losing to the Senators by a score of 3-2. The Blue Jackets have yet to allow a power play goal this season, good for a perfect percentage on the penalty kill, but have scored just three power play goals of their own this year.
On Thursday night, the NHL brings us the Blue Jackets and the Sharks from the SAP Center in California. We are going to use the odds found at SportsBetting.ag, where the Sharks are favored at home. Our bet will consist of 15 percent of our bankroll on the Sharks and the -171 money line as they add to their success at home over Columbus.