Golden Knights vs Vancouver Canucks NHL Odds, Picks
Fri 23/02/2018 - 09:37 EST
Golden Knights vs Vancouver Canucks NHL Odds, Picks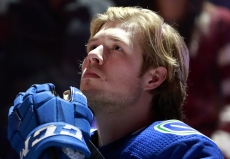 Vegas Adds To Record Season
The list of NHL records keeps getting bigger and bigger for Vegas.
The Golden Knights blasted the Calgary Flames 7-3 on Wednesday at T-Mobile Arena, which is located on the Las Vegas Strip. The victory gave the league's newest team 84 points — the most points for an expansion team in its inaugural season.
William Karlsson scored his team-leading 31st goal for Vegas, which improved to 23-4-2 at home to also set the record for home wins by a team in its first season. It topped the previous mark set by the 1979-80 Hartford Whalers (22-12-6), with more than 20 games left in the season.
Ryan Carpenter (sixth goal of the season), Alex Tuch (11th), Reilly Smith (20th), Luca Sbisa (2nd), Erik Haula (22nd) and Cody Eakin (7th) also scored for the Golden Knights, who have won four of their last five games. The Pacific Division leaders (40-16-4) now take on the Vancouver Canucks (23-30-7) as -260 favorites in their seventh and final game of a current homestand (odds provided by Bovada).

After Friday's game, the Golden Knights will hit the road for six of their next eight including a stretch of five straight away from home.
The Canucks, who are 2-7 in their last nine, have lost four of their last five games away from Rogers Arena. They have only met the Golden Knights once this season, a 5-2 loss at home on Nov. 16. The division rivals will meet twice more after Vancouver's first visit to Las Vegas on Friday night.
Rookie sensation Brock Boeser leads the Canucks in scoring. The American-born forward has 27 goals and 23 assists for 50 points. He has three goals and three assists in nine games in February.
Boeser is one of five players with more than 30 points this season for the Canadian team, which sits sixth in the Pacific standings. Vancouver's other top scorers include Thomas Vanek (16-24-40), Henrik Sedin (2-36-38), Daniel Sedin (15-22-37) and Bo Horvat (16-15-31).
Jacob Markstrom (16-20-5) gets the bulk of the work in goal for Vancouver, which is 10th in the league on the power play, but near the bottom in goals scored, goals allowed and penalty killing.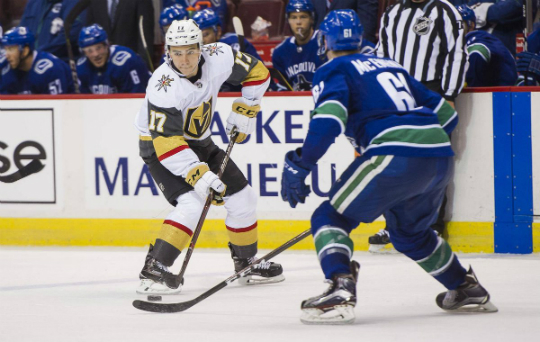 Jonathan Marchessault added an assist to his team-leading total in Wednesday's win for the Golden Knights. The 27-year-old centre now has 21 goals and 38 assists for 59 points.
David Perron (14-41-55), Smith (20-33-53) and Karlsson (31-21-52) have also reached the 50-point plateau for Vegas this season.
Marc-Andre Fleury (20-7-2) has a 2.10 goals against average, which ranks second in the NHL behind Carter Hutton (1.87) of the St. Louis Blues. Hutton (.938) also leads the league in save percentage, with Fleury (.930) close behind.
There's not a lot of value in the money line odds for the Golden Knights. But the Canucks, who have earned just seven points for the month of February, appear to be overmatched in this one.
VGB's pick — Vegas (-260), Over (6)