Wed 18/10/2017 - 20:24 EDT
Vegas NFL Odds Week 7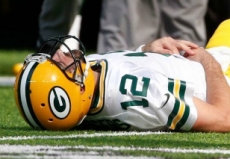 There's only one thing we're sure of anymore in the NFL — Cleveland loses again. Other than that, there are no surprises left. And there are no more undefeated teams either.
The winless New York Giants, almost a two-touchdown underdog, stunned the Broncos in Denver. Unbelievable.
The Dolphins shocked the Falcons in Atlanta. Miami trailed 17-0 at the half only to beat the reigning NFC champs 20-17. Miami was listed at +700 on the money line.
Green Bay's superstar quarterback Aaron Rodgers is out for a long time with a broken collarbone. And now, so are the Packers.
If oddsmakers would have set the over/under betting line at 80, Detroit and New Orleans would have still smashed that mark as the two NFC teams combined to score 90 points in a four-hour marathon.
The Steelers continued their dominance in Kansas City, knocking off the last undefeated team 19-13.
Here are the picks for Week 7 straight up and against the spread. Underlined teams, with their money line odds, are the straight-up picks (odds provided by bovada.lv).
Detroit (3-3) and Houston (3-3) are off this week with a bye.
---
Chiefs Have Dominated AFC West Rivalry

Kansas City (-165) at Oakland (+145) — The Raiders (2-4) have lost four in a row in result and against the spread (ATS). They scored 61 points in their first two games of the season. They've scored 53 in their last four. Another loss here would be a big blow to Oakland's playoff hopes. The Chiefs (5-1) have won the last five matchups against Oakland and they're 5-1 ATS this year — the best in the NFL.
VGB's pick — Kansas City (-3), Under (46.5)
---
Packers Will Struggle Without Rodgers

New Orleans (-240) at Green Bay (+200) — The Packers (4-2) have their work cut out for them just to make the playoffs now that Aaron Rodgers could be gone for the year. The last time when their superstar QB missed an extended amount of time in 2013, the Packers went 2-4-1. Now they meet a team that's on a roll as the Saints (3-2) have won three straight. This will be Brett Hundley's first NFL start for Green Bay.
VGB's pick — New Orleans (-6), Over (47.5)
---
Panthers Undefeated On Road This Year

Carolina (-170) at Chicago (+150) — Mitchell Trubisky won his first start in the NFL for the Bears (2-4) last week. But there's a big difference between a struggling Baltimore team and an improving one from Carolina. The Panthers (4-2) will turn up the heat on the rookie quarterback. The Bears, who have not been favored in all six starts this season, are 4-2 ATS. The Panthers are 3-3 ATS, but 3-0 on the road this year.
VGB's pick — Carolina (-3), Under (40.5)
---
First-place Vikings 3-1 At Home This Season

Baltimore (+200) at Minnesota (-240) — One team that has done a good job without their starting quarterback is Minnesota. Case Keenum and the Vikings (4-2) have climbed into first place in the NFC North as Teddy Bridgewater and Sam Bradford have watched from the sidelines with injuries. The inconsistent Ravens (3-3) need a win here to stay in the race in the AFC North. Both teams are 3-3 ATS, but the Vikings are 3-1 at home.
VGB's pick — Minnesota (-5.5), Under (40)
---
The Trend Continues For Jacksonville

Jacksonville (-165) at Indianapolis (+145) — Sure enough, the trend held for the Jaguars (3-3) — win, lose, win, lose. Since they lost to the Rams last week, they're supposed to beat the Colts (2-4) this week. Their record against the spread is following the same pattern. If only the entire league was this easy. The Colts are another team missing their franchise QB in Andrew Luck, especially since they've been outscored by 76 points.
VGB's pick — Jacksonville (-3.5), Over (44)
---
Jets On A Roll Against The Spread

New York Jets (+155) at Miami (-175) — The Jets (3-3) more than held their own against the Super Bowl champs last week. Sure, the Patriots aren't as good as they were last year, but the Jets aren't the pushover many thought they would be either. They have also beat the spread in their last four games as they head into this rematch against the Dolphins (3-2). The Jets won against their division rivals 20-6 in Week 3.
VGB's pick — New York Jets (+3), Under (38)
---
Peterson Fills Huge Gap In Arizona

Arizona (+155) at Los Angeles Rams (-175) — What a boost Adrian Peterson provided for the Cardinals (3-3) last week. The future hall of famer had 26 carries for 134 yards and two touchdowns in his first start with his new team. The assignment gets a little tougher this week in London against the NFC West leaders. The Rams (4-2) overpowered the Jaguars as Jared Goff passed for just 124 yards. Arizona is 1-5 ATS.
VGB's pick — Arizona (+3.5), Over (47)
---
So You're Saying There's A Chance?

Tennessee (-250) at Cleveland (+210) — Will this be the week the Browns (0-6) finally win one? They're playing a team that has allowed more points than they've scored and they have a losing record on the road. The Titans (3-3) are in a three-way tie for first in the AFC South. They cannot start enjoying their bye week early. Kevin Hogan was not the answer for a benched DeShone Kizer as Cleveland has lost 30 of its last 32 games.
VGB's pick — Tennessee (-5.5), Under (46.5)
---
All Signs Point To A Win For The Bills

Tampa Bay at Buffalo — What's the deal with the Bucs? They've been favored in four of five games, and yet they're just 1-4 ATS and 2-3 overall — good for last place in the NFC South. Jameis Winston is likely a game time decision with a shoulder injury. The Bills (3-2) are 2-0 at home this year and 4-1 ATS overall. This is another one of those games where Buffalo must beat a team with a losing record. No excuses.
VGB's pick — Line off due to Winston injury.
---
49ers Have Lost Five Games By 13 Points

Dallas (-260) at San Francisco (+220) — The 49ers (0-6) have lost their last five games by a total of 13 points. We're not talking about the Cleveland Browns here. San Francisco is 4-2 ATS. C.J. Beathard saw his first action in the NFL, and he almost rallied the 49ers past the Redskins. The Cowboys (2-3), who had last week off, have lost two straight. Ezekiel Elliott's six-game suspension was delayed by the courts again.
VGB's pick — San Francisco (+6), Under (46.5)
---
Seahawks Have Owned This Matchup

Seattle (-245) at New York Giants (+205) — Oddsmakers don't think the Giants (1-5) can repeat last week's performance, listing the New York team as home underdogs. The Seahawks (3-2) had last week off with the bye. They should be ready to make that second-half push and challenge for the title in the NFC West. These two NFC teams have met three times in the last six years. Seattle won all three.
VGB's pick — Seattle (-5.5), Under (40)
---
Broncos Must Rebound Against Chargers

Denver (+105) at Los Angeles Chargers (-125) — The Giants totally outplayed the Broncos in Denver last week. Which team was winless? Most figured the Broncos (3-2) to be major contenders in the AFC after an excellent start to the season. Now, many are wondering about Trevor Siemian and the entire Denver offense. The Chargers (2-4) have won two straight, including a win on the road in Oakland last week.
VGB's pick — Los Angeles Chargers (-1.5), Over (42)
---
AFC North Rivalry Has Been One-sided

Cincinnati (+195) at Pittsburgh (-235) — The Steelers (4-2) are 16-5 against the Bengals since 2007, including a win in the 2015 AFC wild card game. They are coming off their biggest win of the year after knocking off the last undefeated team in the NFL. The Bengals (2-3) have won two straight after starting the season with three losses. They have outscored their opponents 51-23 in those two victories. This promises to be a very physical game between two longtime rivals.
VGB's pick — Cincinnati (+5.5), Under (41.5)
---
Rematch Of Super Bowl LI At Foxborough

Atlanta (+160) at New England (-180) — Here's the rematch of Super Bowl LI where the Falcons (3-2) blew a 25-point second-half lead. It seems the Falcons are still staggering from that collapse. They were at it again last week as Miami overcame a 17-point deficit and Atlanta failed to score in the second half. The Patriots (4-2) still have major concerns on defense. Both teams have losing records against the spread.
VGB's pick — New England (-3), Under (55)
---
Eagles Won First Meeting In NFC East Rivalry

Washington (+180) at Philadelphia (-220) — In Week 1, the Eagles (5-1) blasted the Redskins (3-2) at FedExField 30-17. Seven weeks later, these two NFC East rivals hook up in prime time at Lincoln Financial Field. The Eagles have rushed for twice as many yards as their opponents. But the Redskins have won five of the past six meetings in this series and have gone 5-1 ATS. Philadelphia's pass rush was the difference in their first meeting.
VGB's pick — Washington (+4.5), Over (48.5)
---
VGB's Top 10 NFL Teams
(Current odds to win Super Bowl LII listed after team record, with last week's ranking in brackets. Odds provided by bovada.lv.)
1 (3) Philadelphia Eagles (5-1) +850 — Finished last in NFC East last season.
(NR) Pittsburgh Steelers (4-2) +800 — The most unpredictable team in NFL.
(1) Kansas City Chiefs (5-1) +850 — Just 28 yards rushing at home in Week 6.
(6) Seattle Seahawks (3-2) +1100 — Should be fresh and healthy off bye week.
(4) Carolina Panthers (4-2) +2500 — Too many turnovers against Eagles.
(7) Buffalo Bills (3-2) +6600 — Host slumping Buccaneers after bye week.
(10) New England Patriots (4-2) +450 — Benefit from controversial ruling.
(NR) Los Angeles Rams (4-2) +2500 — Huge road win in Jacksonville.
(NR) Minnesota Vikings (4-2) +2000 — Tied for first place in NFC North.
(5) Denver Broncos (3-2) +2500 — Terrible effort at home against winless team.