NBA Friday Night Picks Parlay: Warriors Struggling Without Their Stars
Fri 30/03/2018 - 14:05 EDT
NBA Friday Night Picks Parlay: Warriors Struggling Without Their Stars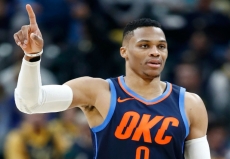 The Golden State Warriors, for much of the season odds-on favorites to defend their NBA title, are now just trying to find the win column.
Their starting lineup loaded with all-stars and MVPs has been decimated with injuries. The Warriors (54-21) have lost three consecutive games and seven of their last 10. This from a team that lost just 15 games last season and a record nine the year before.
They will finish second in the Western Conference, but will not have homecourt advantage throughout the playoffs. That luxury looks to be in the hands of the Houston Rockets (61-14).
There are nine games in the NBA on Friday night. Let's try to pick the winner against the spread in two of them and cash a winning parlay ticket (odds provided by Bovada).
If parlays are not your preference, there are many other alternative bets available from online sites Bovada, TopBet and Betonline — like first-quarter and first-half lines, alternate point spreads, individual team over/under totals and many more.
**VGB's Friday Night NBA parlay pick — Take Oklahoma City (-3.5) over Denver and Chicago (+6.5) over Orlando. If both teams cover the spread, the payoff is $66.13 for a $25 bet. If either team loses against the spread, the ticket is void.
---
Westbrook Seventh In Scoring
Denver (+3.5) at Oklahoma City — The Nuggets (40-35) hold a 2-1 lead in the four-game season series with the Thunder (44-32). But both of these teams seem to be play well at home and struggle on the road.
Oklahoma City is 26-12 at the Chesapeake Energy Arena, while Denver is 13-25 away from home. The Thunder are 7-3 in their last 10, while the Nuggets are 3-5 in their last eight.
Russell Westbrook is seventh in the NBA in scoring, averaging 25.4 points a game for the Thunder. Right behind him in eighth is the Nuggets' Devin Booker, who averages 24.9.
---
Bulls Unbeaten Against Magic
Chicago (+6.5) at Orlando — Both the Bulls (24-51) and the Magic (22-52) have been eliminated from the playoffs. They're playing for pride, or some would say a better draft pick.
Both teams are 2-8 in their last 10 games, while Chicago has lost seven straight. The Bulls are 9-29 on the road, but the Magic are not much better at home at 15-22.
This is the fourth time these two Eastern Conference rivals have met this season. Chicago has won all three by a combined 44 points.
---
Close Race In The West
The eight playoff teams in the Eastern Conference are basically set with the Toronto Raptors the likely top seed. In the West, however, it's a completely different story.
Four games separate seven teams with seven games left in the regular season. A lot of playoff positions will change in the next couple of weeks. Two of them won't even make it.
The five teams that are currently in the postseason are Oklahoma City (44-32), San Antonio (44-32), New Orleans (43-32), Minnesota (43-33) and Utah (42-33). The two on the outside looking in are the Los Angeles Clippers (41-34) and Denver (40-35).
Many of these teams play each other before the last games on April 11, including the Nuggets at the Timberwolves on the final night.
---
---
VGB's Top 10 NBA Teams
(Current odds to win the NBA Finals listed after team record. Odds provided by Bovada.)
Houston (61-14) +140 — Rockets have won 10 straight and 27 of last 28.
Toronto (55-20) +950 — Second best home record in NBA, 14-3 in last 17.
Golden State (54-21) +105 — 4-7 in last 11, no longer odds-on to win title.
Boston (52-23) +2500 — Celtics 9-4 in last 13 without all-star Kyrie Irving.
Portland (46-29) +4400 — Blazers 20-4 when C.J. McCollum scores 25+.
Cleveland (45-30) +725 — Cavs unbeaten in four with Love back in lineup.
Oklahoma City (44-32) +3300 — Last three losses to Port., Boston and S.A.
Philadelphia (44-30) +4400 — Sixers have won eight straight, fourth in East.
Indiana (45-31) +25000 — Four straight wins, 31-18 in conference play.
New Orleans (43-32) +20000 — Two consecutive losses, but 15-6 in last 21.