2018 NBA Conference Finals Vegas Betting Predictions
Sat 12/05/2018 - 14:37 EDT
2018 NBA Conference Finals Vegas Betting Predictions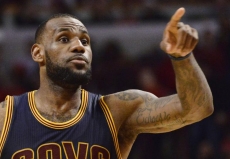 Huge Favorites In Both Series
The Houston Rockets and Boston Celtics are trying to spoil the party.
For the last three years, Steph Curry and the Golden State Warriors have collided with LeBron James and the Cleveland Cavaliers in the NBA Finals. Golden State captured the title in 2015 and 2017. Cleveland won it all in 2016.
Both teams are still alive in their respective conference finals while higher seeds stand in the way of Warriors-Cavs Part IV.
The No. 2 Warriors are the -200 favorite over the top seeded Rockets (+170) in the Western Conference best-of-seven final, which begins on Monday (odds provided by Bovada). The No. 4 Cavaliers are the -290 favorite over the No. 2 Celtics (+245) in the Eastern final, which starts on Sunday.
Let's take a look at the conference finals and try to pick a winner in both.
---
Eastern Conference final
James Leads League In Scoring

LeBron James and company eliminated the Celtics in five games last year to earn a spot in the NBA Finals for a third straight season. All signs point to that happening again.
The Cavs took two-of-three off the Celtics this season and seem to be getting better as the playoffs roll along, especially after a four-game sweep of Toronto — the regular-season champs in the East.
James leads all scorers in the playoffs with 34.3 points per game — 20 points more than teammate Kevin Love. Jayson Tatum (18.8), Terry Rozier (18.2) and Jaylen Brown (16.9) are the top scorers for the Celtics.
When it comes to betting the game against the spread, don't be in a rush to load up on Cleveland. The Cavaliers rank dead last in the league at 35-57-1 this season, while the Celtics have the best mark at 59-33-2.
While most experts agree that the Cavaliers will win this series, there's absolutely no value in betting on them. The Celtics have a lot of raw talent, a good coach and nothing to lose.
VGB's pick — Boston (+245)
---

---
Western Conference final
The Matchup Of The Season

This is the matchup fans have been waiting for. These two rivals have been on a collision course all season.
The Warriors have won the NBA Finals two of the last three years. The Rockets just made franchise history by becoming the first Houston team ever to win 60 or more games in a regular season, finishing at 65-17.
James Harden is surrounded by a good supporting cast for the Rockets, who have home-court advantage in the series as the top seed in the West. Harden is fourth in playoff scoring, averaging 28.5 points a game.
The Warriors are packed with all-stars — Curry, Kevin Durant, Klay Thompson and Draymond Green. Durant is fifth in scoring with 28.0 points a game. Curry and Thompson are also in the Top 20.
Houston (47-44-1) is 11th against the spread this season, including the playoffs. Golden State (38-53-1) is 28th.
Even though the Rockets won two-of-three in the regular season, how are they going to silence all of those Warrior weapons? They aren't.
VGB's pick — Golden State (-200)
---

---
Alternative Bets For NBA Playoffs
For each and every game in the conference finals, online sites like Bovada, TopBet and Betonline offer alternative betting options from the standard money line, point spread and over/under totals.
There are betting lines on all the quarters and both halves. There's also action on alternative point spreads and totals.
You can bet on the first team to reach 10 or 20 points and whether the game will end in a tie in regulation. You can even attempt to predict the exact margin of victory.
There are dozens of player props, too — most of them involving points scored and rebounds for individual players. If you want to take on even more risk with your betting dollars, take a shot at a parlay.
VGB's Top 10 NBA Teams
(Current odds to win the NBA Finals listed after team record. Odds provided by Bovada.)
Houston (65-17) +250 — Have not won conference final since 1994-95.
Golden State (58-24) -140 — Warriors winless in Houston this season.
Cleveland (50-32) +500 — Cavs look very different from regular season.
Boston (55-27) +2000 — Celtics dumped in conference final last year.
Toronto (59-23) — Raptors waste record season, ousted by Cavs again.
Philadelphia (52-30) — 76ers have "a bright future," young stars claim.
Utah (48-34) — Jazz make great strides, led by rookie Donovan Mitchell.
New Orleans (48-34) — Anthony Davis finishes out season with a bang.
Indiana (48-34) — Cory Joseph exercises contract option for 2018-19.
Oklahoma City (48-34) — Coach Billy Donovan's job is safe, GM says.