Arizona Cardinals Visit New York Giants For Week Two NFL Action in East Rutherford
Sun 14/09/2014 - 17:56 EDT
Arizona Cardinals Visit New York Giants For Week Two NFL Action in East Rutherford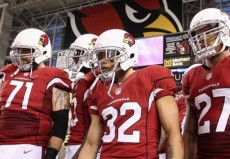 Many experts around the NFL predicted a rough season for the New York Giants, but who would have thought they would get thumped in their season opener. New York opens its home schedule on Sunday afternoon following qa 35-14 loss to Detroit in week one. Arizona came from behind to win their opener, against San Diego, with a score of 18-17. Now, these two teams will collide in New Jersey with a lot on the line for the Giants. We like Arizona on the road to begin the year with a record of 2-0.
Cardinals cannot rely on late-game rallies
Even though they were able to rally from a 17-6 deficit after the third quarter, Arizona cannot rely on such rallies happening each week. Arizona took the lead over San Diego with just 2:25 left in the game and their defense held to finish the game. Carson Palmer led the comeback for the Cardinals, throwing two touchdown passes in the fourth quarter to grab the victory.
Giants cannot afford to begin season with two losses
No team feels that they are in a must-win situation in week two of the season, but the Giants should feel that way on Sunday. They were throttled by the Lions in week one and now they have to host the Cardinals. New York has won three of the last four meetings between these two teams, but lost the last game played at the Meadowlands, which was in 2009. Giants fans will be restless from the start on Sunday.
When we place our NFL wager on Sunday afternoon for the Giants and Cardinals game, we will do so over at the sportsbook found at TopBet.eu. Arizona is the underdog on the road, but we still like them to win this game. We are going to drop 10 percent of our bankroll on the Cardinals and the OVER 41 total points scored on Sunday.